In The Police's 1979 classic song "Message In A Bottle", the main character wants to reach someone, anyone, in a way that marketing people would consider a non–traditional medium.
Instead of a great Facebook or Radio campaign, he launches his note into the ocean, an SOS to the world hoping for a single response. Anyone familiar with the song knows that the very next day, our messaging hero gets a hundred billion responses. Oh, if only that were possible.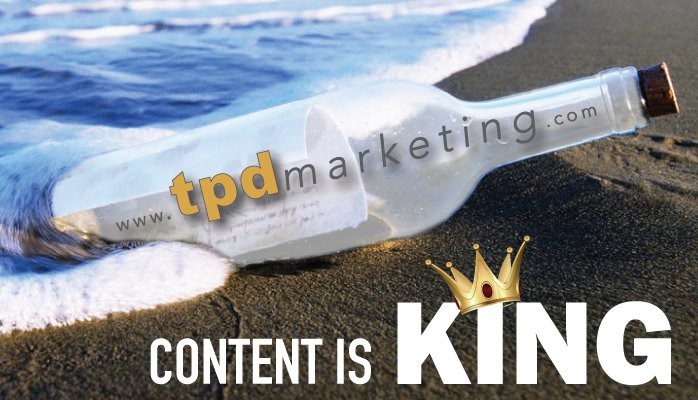 In this article I would like to focus on one particular service . . .
Content Development. Back in the day, ranking high on the search engines was a pretty sneaky business. Hiding meta tags, extending page titles and saying the same thing 100 times more than your competitor were the keys to page one success.
But all of that has changed. Fresh and engaging content is king. Untold thousands of pages are uploaded online every day. In fact, it's estimated that at the end of 2015, there will be over 1 BILLION sites worldwide.
The "spiders" that go out crawling the web have become eerily intuitive, able to detect new content from recycled material. To stay in their good graces and have your site found, it's imperative to keep your content up to date.
The key is to follow these six basic but invaluable rules:
Create strong, engaging content. You have something to say, but how you say it online is different than other mediums. Know how to be interesting to both your target audience and the web spiders. Recognize that social media campaign language may need to vary based on the site you're targeting.
Develop strong headlines. It's the first thing both audiences see. If the headline doesn't grab you, chances are you're skipping the rest of the content. Base your headlines on thorough research, to determine what people are REALLY searching for.
Have a purpose. Sure, one of your goals is to post fresh content which will lead to higher rankings for your site, But in addition you want the reader to walk away feeling like they did not waste their time . . . that there was an actionable item or an answer to their question, which may bring them back.
Keep it short and sweet. It's easy to throw in too much fluff. A "hook" is good to keep readers interested (for instance, a reference to a pop song by The Police), but don't overdo it just to get to your ideal word count. We're all busy and want to get to the point sooner than later.
Add photography, graphs and/or video. The fact that YouTube is the second largest search engine on earth is all that needs to be said: people like watching and listening as much as–if not more than—reading. In fact, because of the partnership of Google and YouTube, the actual content of video is now part of the algorithm that search engines find attractive.
And lastly . . . .
Make sure your content is accurate and credible.  In short, try your hardest to be both and make certain that content is thoroughly vetted.